38Hr Eyelash Extension Online – Onsite Training Course
The Minnesota Board of Cosmetology has approved this online/onsite course in certifying students for a Minnesota Eyelash Technician License. You can train up to 24 hours online at your own pace. After you finish the online program, you will finish the last 14hr-16hr in school.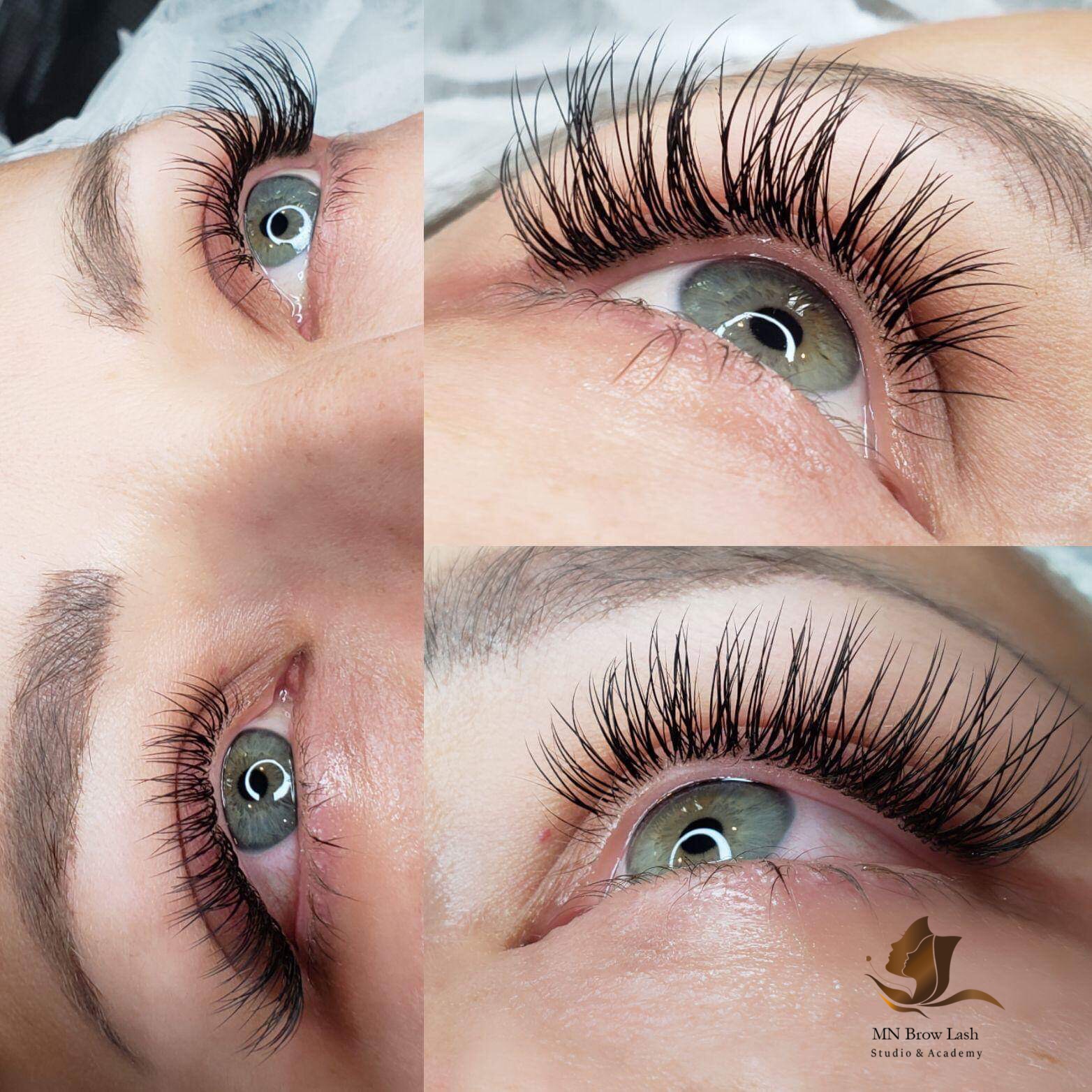 Hands-on 38 hours training covers the following
Theory & Concepts
Product knowledge
Rules & Laws
Set up/safety/sanitation
Eye Anatomy
Common irritations
Common infections
Taping
The eyelash growth cycle
How to hold your tweezers
Isolation
Eyelash adhesive
Caring for your adhesive
Applying Extensions
Correcting lashes
Removing extensions
Aftercare and cleansing lashes
Extension types
Curls/Lengths/Diameters
Client Consultation/Consent Form
Eye Shapes
Basic Technique
Fill Technique
Live Model Practice
Career placement opportunity
Minnesota Brow Lash & Medspa Academy is a licensed private career school with the Minnesota Office of Higher Education pursuant to Minnesota Statutes, sections 136A.821 to 136A.832. Licensure is not an endorsement of the institution. In some cases, credits earned at the institution may not transfer to other institutions (varies by institution).
In addition, we are licensed under the Minnesota Board of Cosmetology, license #19000219. We offer several cosmetology fundamental courses for eyelash extensions and esthetic training. We also offer BCE approved continuing education courses for licensure renewal.
Registration:
All students are required to pay the total amount of $1,000 to ensure your spot for this course.
Licensing:
Minnesota State licensing info: https://mn.gov/boards/cosmetology/licensing/
This 38 hour training course is approved by MN Board Of Cosmetology to certify you for the 38 hours of eyelash extension technique toward the lash technician licensing. The eyelash technician licensing is a required license for beginners who only want to perform eyelash services. Students (18 and above) are NOT required to have high school diplomas or other licensing to take this course.
After you complete this training course, you will need to pass the BCE Tests at a PSI test center of your choice before your license application can be submitted to the board. Our training will train you all the knowledge needed to pass these tests. We will help guide you with the licensing process as well.
If you are a licensed cosmetologist or esthetician, you can perform lashes within your licensing. If you wish to learn how to perform lashes, check out our 2 Days CE Course. It's a perfect solution for you.
There are in-class trainings as well as online /onsite training course options available. You choose what fits your lifestyle!
Online/Onsite Training:
The Minnesota Board of Cosmetology has approved this online/onsite course in certifying students for a Minnesota Eyelash Technician License.
You will receive a training manual, complete product kit, mannequin face to practice on and the updated printed copies of the Minnesota Laws and Rules via the mail. You will also receive your online training login access code to begin online training. On-going you will have one on one training with your instructor via online communications. The hands- on portion of this training will be at our Academy (located at 5500 Lincoln Dr. Suite 120, Edina, MN 55436). You will have the opportunity to perform up to 3 live models practice prior to the final exam.
*If you are attending from out of state, please check out your state's health department or board of costmetology website for the correct information*
*Students are responsible for checking with his/her State or Local Jurisdiction for his/her license requirement process.
Once the student has signed up and has paid the initial deposit, one of our staff will reach out to you with a full contract for this training. It's that simple!