38Hr Eyelash Extension Online – Onsite Training Course
The Minnesota Board of Cosmetology has approved this online/onsite course in certifying students for a Minnesota Eyelash Technician License. You can train up to 24 hours online at your own pace. After you finish the online program, you will finish the last 14hr-16hr in school.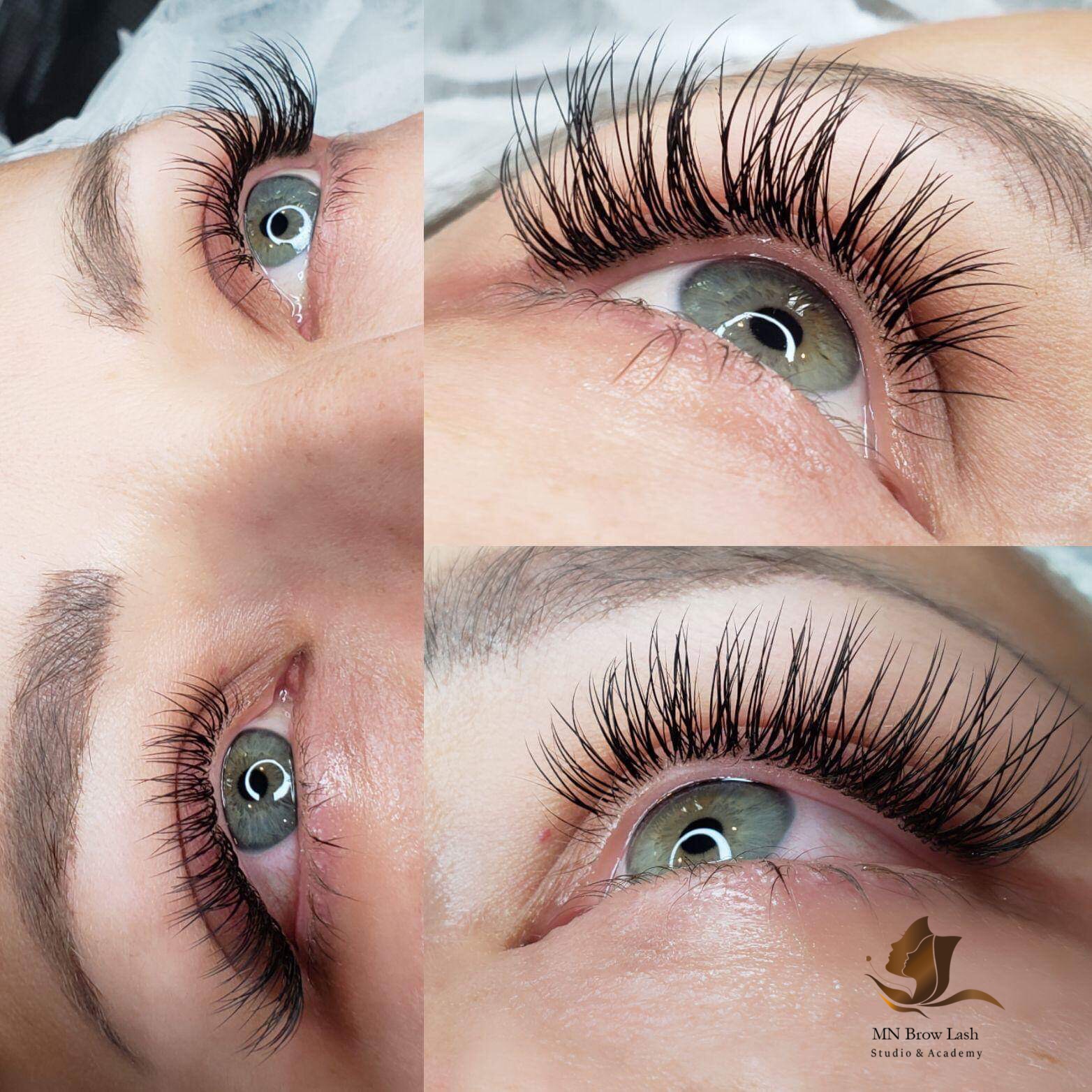 Hands-on 38 hours training covers the following
Theory & Concepts
Product knowledge
Rules & Laws
Set up/safety/sanitation
Eye Anatomy
Common irritations
Common infections
Taping
The eyelash growth cycle
How to hold your tweezers
Isolation
Eyelash adhesive
Caring for your adhesive
Applying Extensions
Correcting lashes
Removing extensions
Aftercare and cleansing lashes
Extension types
Curls/Lengths/Diameters
Client Consultation/Consent Form
Eye Shapes
Basic Technique
Fill Technique
Live Model Practice
Career placement opportunity
Minnesota Brow Lash & Medspa Academy is a licensed private career school with the Minnesota Office of Higher Education pursuant to Minnesota Statutes, sections 136A.821 to 136A.832. Licensure is not an endorsement of the institution. In some cases, credits earned at the institution may not transfer to other institutions (varies by institution).
In addition, we are licensed under the Minnesota Board of Cosmetology, license #19000219. We offer several cosmetology fundamental courses for eyelash extensions and esthetic training. We also offer BCE approved continuing education courses for licensure renewal.
Registration:
All students are required to pay the total amount of $1,000 to ensure your spot for this course.
Licensing:
Minnesota State licensing info: https://mn.gov/boards/cosmetology/licensing/
This 38 hour training course is approved by MN Board Of Cosmetology to certify you for the 38 hours of eyelash extension technique toward the lash technician licensing. The eyelash technician licensing is a required license for beginners who only want to perform eyelash services. Students (18 and above) are NOT required to have high school diplomas or other licensing to take this course.
After you complete this training course, you will need to pass the BCE Tests at a PSI test center of your choice before your license application can be submitted to the board. Our training will train you all the knowledge needed to pass these tests. We will help guide you with the licensing process as well.
If you are a licensed cosmetologist or esthetician, you can perform lashes within your licensing. If you wish to learn how to perform lashes, check out our 2 Days CE Course. It's a perfect solution for you.
There are in-class trainings as well as online /onsite training course options available. You choose what fits your lifestyle!
Online/Onsite Training:
The Minnesota Board of Cosmetology has approved this online/onsite course in certifying students for a Minnesota Eyelash Technician License.
You will receive a training manual, complete product kit, mannequin face to practice on and the updated printed copies of the Minnesota Laws and Rules via the mail. You will also receive your online training login access code to begin online training. On-going you will have one on one training with your instructor via online communications. The hands- on portion of this training will be at our Academy (located at 5500 Lincoln Dr. Suite 120, Edina, MN 55436). You will have the opportunity to perform up to 3 live models practice prior to the final exam.
*If you are attending from out of state, please check out your state's health department or board of costmetology website for the correct information*
*Students are responsible for checking with his/her State or Local Jurisdiction for his/her license requirement process.
Once the student has signed up and has paid the initial deposit, one of our staff will reach out to you with a full contract for this training. It's that simple!
FAQ's: 38 Hours Lash Extension Course
Do you HAVE to be licensed prior to getting your Eyelash Extension Technician License?
No. You are not required to be licensed. However, you do need to have a Cosmo or Esthetician license to do Lash Lift and Lash Tinting.
Class Materials
Class Materials come with a complete product kit as well as a detailed training packet and that includes MN State Laws and Rules by the Board of Cosmetology.
You will be provided a mannequin face to practice on throughout the training. You will need to bring it home with you to perform homework assignments each evening during the training period.
We also have an extension Lash Store on site filled with inventory of high quality eyelash extension products at amazing prices for purchase while in training or even after you have finished and you have established a lash career.
Come back to purchase supplies at any time or conveniently or on our retail store website:  https://mnbrow.com
Models
Models: You will need to coordinate a total of 3 models to come to the facility to complete your training requirements.  This will occur during the last 2 days of training (Thursday and Friday).
Testing
Testing: Your Hands On Practical is 1 of the 4 required State Tests per the Laws and Rules of the MN State Board Of Cosmetology.
License Application
License Application: You must be submitted for your application to be processed:
Completed Application  Fee: $195 (processing within 14-20 business days) or $345 (expedited processing within 5 business days).
Checks or money orders may be made payable to: "MN Board of Cosmetology". Fees are deposited the first business day upon receipt.
Processing time begins when your application and payment are received in the Board's office. Business days do not include weekends or state determined holidays.
Incomplete applications will be returned and subject to additional processing upon receipt back in the Board office. 
Original Course Completion Certificate, This certificate includes your Practical Skills Test results. It must be complete, accurate, and properly notarized.  

Original passing results from the Minnesota State Laws & Rules Exam, General Theory Exam, Written Practical Exam. All original score reports must be attached to the application.
Enrollment
You will see training details or over the phone 952-938-0358
If you have further questions feel free to contact us anytime via email mnbrowlashacadmey@gmail.com or text/call our Lash Coordinator Darletta at: 612-367-6101.
You will see training details or over the phone 952-938-0358
If you have further questions feel free to contact us anytime via email mnbrowlashacademy@gmail.com 
Reviews
I found the training at Mn Brow Lash Academy to be OUTSTANDING!!! All of the people working there are always willing to go the extra step to make sure you are learning the material required to really understand the job of the Lash Tech. They didn't just want you to pass the tests and get your license. They want you to know the field inside and out. They all work together, and with students to troubleshoot any issues no matter what they are. They are excellent at thinking and working outside the box, and they care about the education that you are there to get. Ingrid, the Lashing instructor said on many occasions "what ever it takes". And she REALLY meant it. Darletta is awesome at helping you to overcome any apprehension of working on live models. She will do all she can to help you feel more at ease, and she will make sure you have the live experience you need to feel confident so you can get out there and be the best lasher you can be. Holly, "The Laws & Rules QUEEN" is incredibly knowledgeable. She makes sure you know what you must to achieve your goals. If that goal is to work in a lash salon, or own your own lash business, Holly will make sure you are prepared. And Kay, She is a true inspiration. She has many, many different angles of experience owning her own business from lashing and permanent make up, to owning and running her own school. She is not afraid to share her experience with you. She will share her achievements as well as her mistakes. Together, they all make a great team. And they make an even greater place to learn. I am so happy I enrolled there, and now I am well on my way to achieving my dreams of working for myself spreading the beauty of incredible lashes. Thank you all!!!